In addition to being the "month of pride" of alternative, evolutionarily unsustainable and economically disastrous forms of sexuality, June was also remembered for the new record-low to which human rights have fallen in the developed countries of the European Union. Namely, the European Parliament adopted the resolution on sexual and reproductive health and rights in the EU (2020/2215 (INI)), prepared by Croatian socialist Predrag Fred Matić.
The resolution calls on all EU member states to completely eliminate all legal barriers and restrictions to abortion and to allow elective abortion (abortion on demand, without any specific medical or other reason) in order to bring their laws "into line with international human rights standards". And not only that, the resolution expresses "regret" that in some Member States medical providers have the right to refuse to perform an abortion on grounds of a "so-called conscientious objection" – for the authors of the resolution, the individual's personal ethical and moral value system is a "so-called" conscientious objection.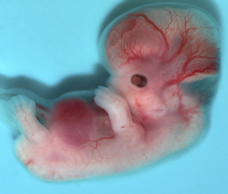 But that's not all. Liberal and left-oriented progressives have opened the door to unprecedented opportunities for women, and urge "the Member States to additionally implement safe, free and adjusted access to abortion during the circumstances of the COVID-19 pandemic, and beyond, such as the abortion pill" (emphasis by M.S.), as well as to reject "all limitations in accessing" the abortion procedure. How splendid! While we're trying to save lives because of the "global pandemic", on the other hand, women will now be able to prevent new lives from coming into the world even more easily by,–as is the case in the UK–receiving an abortion pill by mail and having a DIY abortion at home. On top of that, they will have a great opportunity to endanger their health and lives by performing such a procedure without medical supervision and without an ultrasound before or after the procedure.
What is it that they keep reminding us, "wear your masks to protect yourself and others"?
Protect from what? From disease and death? Why?
Why would anyone ever care about the health and lives of others when women have been given the right to kill their unborn children for no reason while the children are in their mother's womb where they should be safest?
Sylvia Spurek, who has a PhD in law and is a Polish member in the European Parliament, is very committed to the rights and welfare of animals, and is also vegan with her heart and soul, so to speak, but she obviously believes that human offspring is not worthy of protection and should not have the right to life. Given that, unsurprisingly, she is also a feminist, she often wears a T-shirt that reads "The future is for feminists and vegans." During the discussion on the resolution, she stated the following: "There is no gender equality without the right to universal and safe abortion. There is no rule of law without respecting full sexual and reproductive health and rights. There are no human rights without the right to abortion."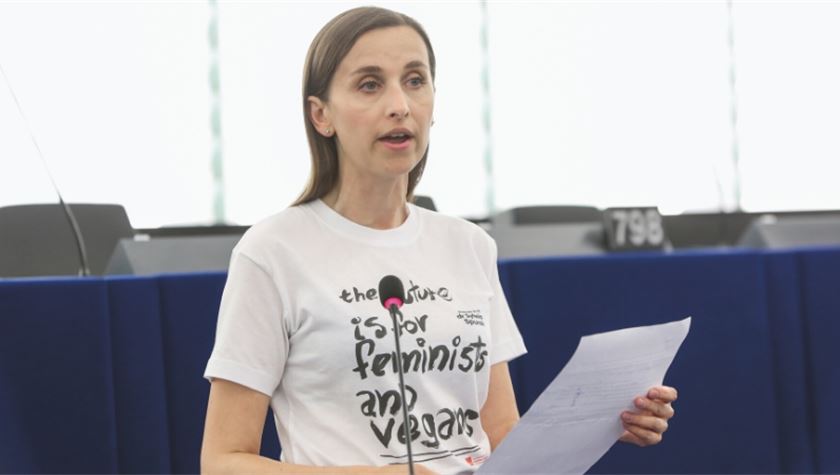 Let's translate this into the language of truth: "There is no gender equality without the right to universally and safely kill your unborn children. There is no rule of law without respect for sexual and reproductive health and rights. There are no human rights without the right to kill one's unborn children."
It is interesting to see the same pattern being repeated over and over again: the feminist parliamentarian is not bothered that girls are aborted much more than boys for an entirely misogynistic reason – just because they are girls. And as a vegan, she does not see the cognitive dissonance: as she's fighting for animal rights and saving eagle eggs and butterfly larvae, at the same time she firmly believes that women should have the absolute right to kill their human cubs without any restrictions.
But that's not the limit of liberal achievements. The resolution also supports "comprehensive sex education" and promotes the most extreme elements of the LGBT agenda. Instead of providing children at school with true information about sexuality, hormonal contraception, abortion, sexually transmitted diseases, etc. and affirming the importance of health, marriage and childbirth, "comprehensive sex education" programs tell children to just "use protection" and "get tested regularly", giving them the illusion of safety and a "pass" to engage in sexual activities, and when contraception fails – which happens ever so often – they can "simply" have an abortion, as a backup plan.
Never mind that hormonal contraception stops the production of natural female hormones (estrogen and progesterone) and puts a woman in a chemical menopause. Never mind that cervical crypts, which produce fertile mucus (without which there is no sperm survival and fertilization), age two years for each year of use of hormonal contraception. Never mind that condoms are no protection against HPV because this vicious virus – and currently the most common sexually transmitted disease along with chlamydia – survives on the skin in the entire genital area, and not only in bodily secretions, which means that practically the condom provides very minimal protection against it. Never mind that abortion leaves permanent psychophysical consequences, including infertility, uterine perforation, depression, anxiety, suicidal thoughts.
Policy makers want to tell our children to put on a condom, take a pill and have fun! Just don't forget to put on your mask, too!
The resolution calls on the WHO to change the definition of infertility to include same-sex couples and transgender persons. "In certain circumstances, transgender men and non-binary persons may also undergo pregnancy," the resolution states, adding that they should be provided with maternity care.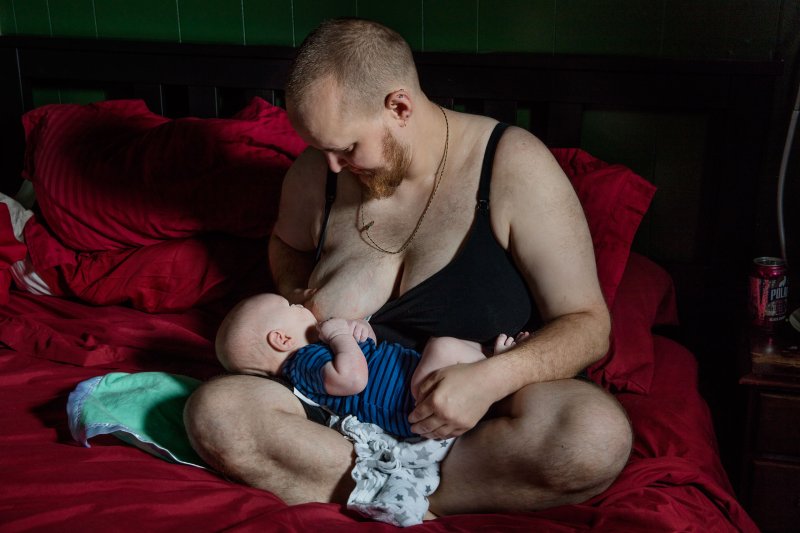 Of course, every pregnant woman should receive medical care. The problem is that this provision claims that men can give birth. A transgender man is actually a biological woman who claims to be a man. Such a person can take cross-sex hormones, but if such individual gets pregnant, it means that "he" still has female sexual organs (internal and external) and that "he" is currently not taking male hormones (in order to get pregnant and maintain the pregnancy). The way such person dresses, the increased hairiness due to male hormones, etc. still do not change the fact that this is a biological woman because ONLY WOMEN CAN GIVE BIRTH!!!
The resolution draws an equation sign between couples struggling with infertility and those who are most likely able to conceive quite normally–but they choose not to do so (because they are in same-sex relationships); and they will now have the right to demand that their countries fund their IVF procedures, although, I repeat, in most cases they can get pregnant, ie. they have no actual infertility issues.
According to Family Watch International, European parliamentarian Margarita de la Pisa Carrión, speaking on behalf of the European Conservatives and Reformists Group, said that "This resolution does not protect women. It degrades women's dignity. It swindles and subjugates women to a false liberty that does not allow women to respect their own body and the miracle of life they carry within."
Who declared the male body as the norm in society, so that women must go to such lengths to prevent pregnancy and abort the conceived children because, feminists tell us, this is "the only way for us to be equal with men"?
Aren't women valuable as they are, with all their biological, psychological, creative and all other differences? Shouldn't feminism help women be WOMEN, be accomplished as WOMEN–and not strive to be men without a penis and with a bit less testosterone?
Sylvia Spurek advocates for animal rights because, she says: "Suffering, narrow cages, pathogens, mass killings" – and at the same time raises her voice to support the mass killings of unborn human offspring. Since the start of 2021 up to now (June 26, 2021 at 10:31 p.m.), there have been a total of 20,658,143 abortions worldwide. Since the beginning of the "pandemic", 3,929,378 people have died of COVID-19 (June 26, 2021 at 10:33 p.m.).
What kind of lives are we saving and preserving today? What is the real pandemic?