There's an old quipping pun that runs, "Denial isn't just a river in Egypt." That pun came to mind when thinking of that tech giant named for another famous river, Amazon.com, and its increasing embrace of "corporate wokeness" and other absurd excesses of modern political correctness.
Like many leaders in big tech, Amazon has become more and more an insular bubble of progressive groupthink, catering to the elitist and out-of-touch sensibilities of its internal culture and to the progressive ideological wing of American politics rather than to the diverse populations it is supposed to serve.
Witness the recent "cancelling" of the best-seller When Harry Became Sally: Responding to the Transgender Moment by conservative scholar and Ethics & Public Policy Center President, Dr. Ryan T. Anderson. The book's best-seller status was not only attested by its reaching number 3 on the Washington Post's paperback nonfiction list, but also by its topping one of Amazon's own categories! Evidently, the interests of its customers matter less than pleasing those within its own sycophantic sphere.
Anderson himself reported the news on Twitter Sunday afternoon, writing: "I hope you've already bought your copy, cause Amazon just removed my book […]from their cyber shelves…. my other four books are still available (for now)."
As noted by the Daily Caller, other prominent conservative voices quickly joined Anderson in voicing their dismay about this development, including eminent conservative scholar Professor Robert P. George of Princeton, who was a prior co-author of a book with Anderson:
While Anderson's book was removed from Amazon, author Rod Dreher noted that a book written in response to Anderson was still listed for sale at the site:
This second book, Let Harry Become Sally by Kelly R. Novak, bills itself on Amazon as "the other Harry/Sally book"—a description which is quite odd now that the "OG" "Harry/Sally book" has disappeared from the website. Ironically, if one searches for the title of Anderson's work, including the full subtitle, the first search result is the book written against his thesis.
As for the "other" book, Novak's pretensions to serious scholarship challenging Anderson are undermined from the very first page of the preface. Within the first paragraph, for example, she writes:
"… anti-transgender thoughts, actions, laws, articles, and books have been on the rise. IMHO, a good example is Ryan T. Anderson's When Harry Became Sally."
How she purports to know that "thoughts" of any particular kind "have been on the rise" is beyond fathoming, nor how she could contrive to pose such a inapposite list as a single collective subject of a verb. Nor does one typically expect to find even the statement "in my honest opinion" in serious, academic work—let alone the SMS-speak acronym "IMHO."
This is as to nothing next to the howlers that follow on the same page, as shown in the screenshot below from the Kindle edition: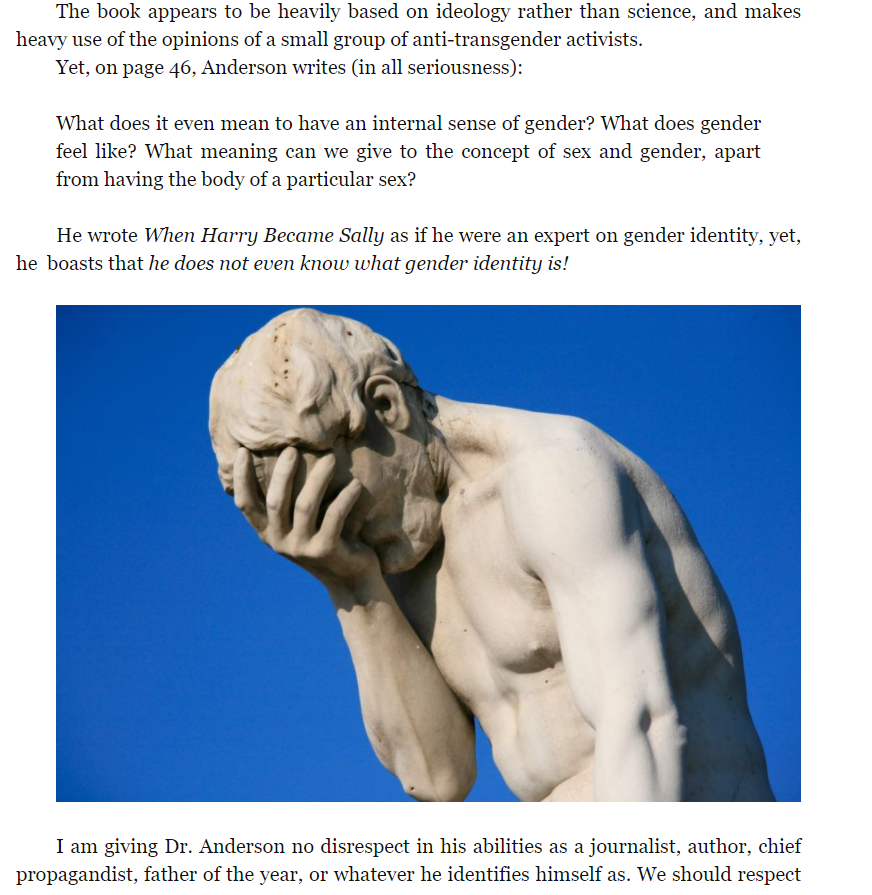 Ah, yes, that time-honored evidentiary demonstration known and loved by serious scholars everywhere: a meme of a facepalming statue.
The point is that Novak's tome is transparently, from page one, everything ignorant critics of Anderson's book claim it to be: a meanspirited, ideological manifesto, comprised of personal attacks and cherry-picked data. The tone, by contrast, of Anderson's work, is measured, compassionate, scholarly, and circumspect. And yet only one of these books is seen as fit to sell by Amazon's custodians of anti-culture.
Why did Amazon take this step? At this juncture, it seems they haven't released any official statement or responded to media requests for comments. Anderson speculates, however, on one possible reason, which seems compelling. He tweeted this morning: "The timing of Amazon's disappearing of my transgender book is, uh, timely… My op-ed in today's @nypost is on the Equality Act vote this week. (Didn't know my book would be removed when I wrote the op-ed.)"
It does seem unlikely that Amazon was retaliating for the op-ed itself, given the timing; but Anderson may nevertheless be on to something. With the introduction of the Equality Act last week, and its vote in the House scheduled for Wednesday of this week, it isn't implausible that Amazon began feeling some political pressure to do more for "the cause" of late. How else to account for why Anderson's book was suddenly deemed unsuitable for listing, when it has been on the website since 2018, and even ranked as a best-seller there for a time?
Whatever the explanation for the timing, the motivations of Amazon here are beyond doubt, and they should alarm us all. Amazon is joining the list of big tech companies willing to silence and "cancel" any voices who will not fall in line with the most radically progressive sexual identity politics. And even if this move by Amazon be only coincidental to the introduction of the Equality Act in Congress, it would be a coincidence resounding with an ominous ring of doom. Because if conservatives tremble at the actions of Amazon and other tech giants right now, in the present climate, how much more will they have to fear when if such actions become not only sanctioned but encouraged by force of federal law?