So, this meme has been making its rounds on the internet: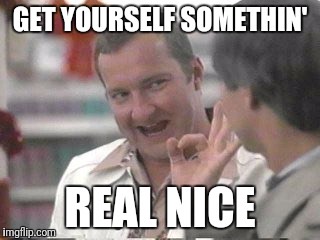 And I didn't know whether to laugh or to curl up in a corner.
For the uninitiated, it's Cousin Eddie from the movie "National Lampoon's Christmas Vacation".  Some call the flick a Christmas classic.  Others… not so much.  But that debate is for another time and place.

For those who have seen the movie, or are at least familiar with the scene, you know the context.  Eddie is the deadbeat patriarch who has driven his slack jawed family – unannounced – to his cousin Clark's home for what turns out to be a tire-fire of a Christmas holiday.

The scene in question revolves around a trip to the local big box store, where Clark is stocking up for some holiday cheer.  Instead, what we see is Eddie loading up on chow for his ugly dog "Snots," while he laments the hard times he and his family have fallen on.  All of Eddie's (un)doing, of course.  While Clark is banking on a big bonus that he's not sure he'll get from his boss, he insists that he'd like to help Eddie give his kids a nice Christmas with gifts under the tree.  After a little pressing, Eddie "relents," hands Clark an already prepared gift list, and then adds "and if it wouldn't be too much I'd like to get something for you Clark… somethin'… real nice."

The meme in circulation, though, has added text written above it. It reads:
Us: $600

US Govt:
And then… the Cousin Eddie meme.

It is gut-wrenchingly apt.

The American family, strapped as it is and as highly taxed as it is, is being told that a $600 one-time payment is somehow going to help them through hard times.   Get something real nice?  Heck, $600 a month is not even going to make a dent in most mortgage and car payments, let alone satisfy grocery and electric bills. 

This $600 for every American household was part of a multi-trilliion dollar Covid Relief Bill that was presented last week in Congress.  It might as well have been a multi-trillion paged tome: the legislation document amounted to 5,593 pages.  It was wheeled in by congressional aides.  On a cart. NBC News correspondent Garrett Haake tweeted the video, and re-tweeted that one would have to read 560 pages an hour to finish it before midnight!  Yeah.  So, nobody read it.  But the House passed it.  The massive year-end legislation combines $900 billion in pandemic relief with $1.4 trillion to fund federal agencies through fiscal 2021.

It is the second largest bill in US history.
Yup, that is a lot of cabbage. 

But virtually none of it goes to struggling American families. 

Families across the pond, however, are being looked after.

Israel will benefit to the tune of $500,000,000 via the aforementioned federal agency funding.  An eye-popping $73 million will go towards Israel's "Iron Dome 9" defense system.  But what is also perplexing (to say the least) is the $25 million going to Pakistan – $15 million to be put toward "democracy programs" and $10 million for "gender programs!"

The hope, as per the USAid.gov website, is to improve Pakistani women's access to economic, social and political opportunities.  The argument is that "a more prosperous, stable, and inclusive society in Pakistan helps further international peace and security."  Counselling and providing legal help to 61,000 female survivors of Gender Based Violence takes money.  Of course.  And even in a country of 212 million, 61,000 victims of violence is 61,000 too many.  Nobody will argue that. 

But what seems to be flying under the radar are the swelling numbers of domestic and substance abuse numbers in countries around the world under the jackboot of Covid-19 restrictions and lockdowns.  Six months after Covid-19 arrived on American shores, it was reported that opioid overdoses in large cities rose by 54% in 16 states.  It would be absurd to think it's gotten any less severe in the last five months.  Also in the summer of 2020, here in my home nation of Canada, a survey was taken of some 376 staff and volunteers who deal with domestic violence across the country. Almost half surveyed noticed changes in the prevalence and severity of violence; 82% said the violence had become both more extreme and more frequent, including a "sharp uptick in cases of strangulation".

Clearly, families are under duress.  And it's not from any tightness in the chest, but from financial burdens pressing down on their shoulders. $600 won't even cover the cost of a bumper-tap involving distracted mothers and fathers worrying about how long they'll be able to put food on the table during a so-called pandemic that has next to nothing to show for it, but has nonetheless left plenty of harm, destruction and death in its wake.