Sometimes it feels as if we at the International Organization for the Family (IOF) are playing an international game of "whack a mole." As we focus on a problem that the political left has created – boys competing against girls, men in women's locker rooms, the advance of homosexual marriage and plural marriages, characterizing abortion as a "human right," etc. – another problem emerges that is just as serious (or more so) requiring our attention.
Here is where things are headed: In the United Kingdom, people of faith are being arrested and criminally charged for praying silently.
Isabel Vaughan Spruce is a pro-life activist. She recently stood in a public space near an abortion clinic in Birmingham, England with her eyes closed and in apparent deep thought and contemplation. She carried no signs, exhibited nothing to suggest she was protesting and said nothing out loud. The abortion clinic was closed at the time.
Nonetheless, Isabel was standing in a public area that Birmingham government officials had designated a "buffer zone" prohibited by a local "Public Space Protection Order" (PSPO).
Isabel was approached by three uniformed officers who demanded to know what she was doing. She made it clear to them that she was not there to protest. Then she was asked if she was silently praying about abortion and Isabel told them, "I might be."
With that, Isabel was searched, arrested, interrogated by police and criminally charged for "intimidation."
You see, praying silently in a public space is considered "intimidation" by the Birmingham government if the area is subject to a PSPO. It doesn't matter that the abortion facility was closed and nobody was around who could have possibly been intimidated. The act of bringing one's private thoughts about abortion silently before God is enough to justify arrest and criminal prosecution.
Throughout the world, religious liberty is under assault. Government officials – urged on by leftist political activists and wealthy NGOs including those funded by billionaire George Soros and huge international corporations – are increasingly targeting people of faith with Orwellian legal restrictions on gathering, speaking and even silently praying whenever they perceive it to be about a subject that challenges a leftist narrative.
The Alliance Defending Freedom – which represents Isabel in her fight against the Birmingham government's censorship of private prayer – calls this latest situation "wholly unprecedented territory" where individuals can be prosecuted for their thoughts.
Sadly, it is not just government officials in the United Kingdom that are targeting people of faith. We have seen Catholic Archbishops, Protestant Pastors and Christian Governmental Ministers targeted in Canada and numerous countries in Europe and all over the world. The United States is also guilty of this type of persecution.
President Joe Biden recently used his "State Of The Union" speech to call on Congress to enact legislation that would impose much of the radical LGBT political agenda into federal law. The misnamed Equality Act declares that belief in the primacy of traditional marriage is a "sex stereotype" and strips Americans of their statutory religious liberty rights whenever they act on a position that is in opposition to the LGBT agenda. If Biden gets his way, refusing to bake a cake for a lesbian wedding because of a belief that marriage was ordained by God as the union of a man and a woman, for instance, would subject a person of faith to ruinous legal complaints and lawsuits.
Wealthy corporations are equally responsible for the advance of leftist and LGBT ideology and policies that punish people of faith. The Disney Corporation, for instance, has been a leading advocate of "queering" young children through what one Disney official called a "not so secret gay agenda" to indoctrinate your kids to support all things gay, including forcing five-year olds to be instructed about "sexual orientation" and "gender identity."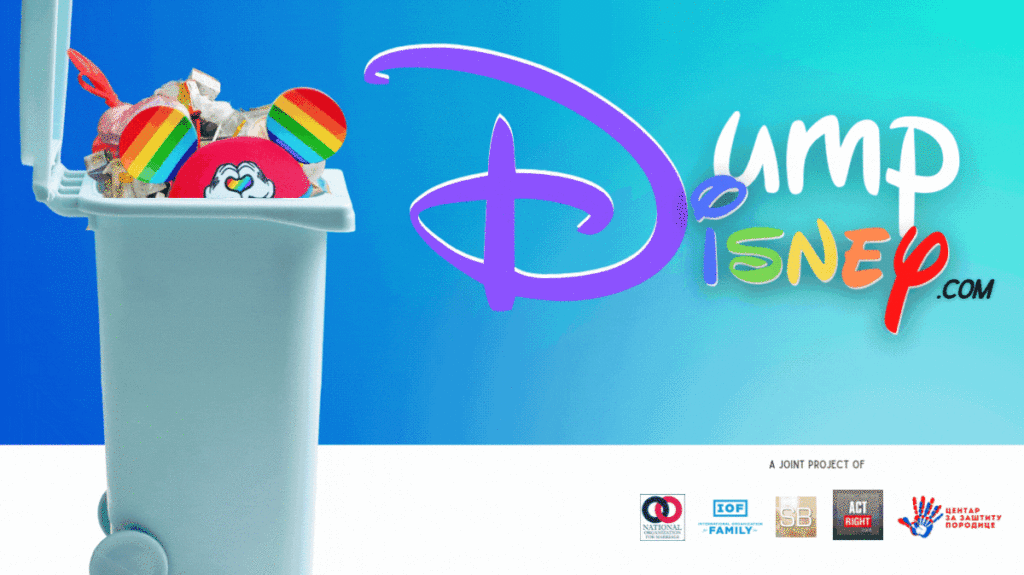 IOF is on the front lines fighting the whack-a-mole series of attacks on the natural family and family values. Whether it be pushing back against woke corporations like Disney, opposing the policies of Joe Biden and George Soros, fighting for families at the United Nations and in other government bodies, or advocating for the right of every person to live their life in accord with their religious beliefs, we are working day in and day out on behalf of this righteous mission.
Please keep IOF, iFamNews and our team in your prayers. We are constantly under attack by the same forces who want to criminalize private prayer. And if you are able, please make a tax-deductible financial contribution to support our work.
No matter how often they come to challenge our beliefs and attack our values, you can be sure that IOF and iFamNews will remain on the battlefield fighting for universal values and viewpoints that uplift families and contribute to human flourishing.