Last updated on June 17th, 2022 at 11:58 am
On 31 May, Public Health Scotland (PHS), i.e., the Scottish public health service, released the result of the statistics for the year 2021 concerning abortion numbers in the country.
Last year, there was a total of 13,758 babies killed in the womb in Scotland, 13.4 per 1,000 women between the ages of 15 and 44, a figure slightly lower than 13,896 terminations in 2020, the annus horribilis of Scottish abortion, with a rate of 13.5. Even in the aftermath of the COVID-19 crisis, socio-economic motivations remain, but, frankly, in the face of such numbers they matter to a point.
Last year, out of a total of 13,758 abortions, 99 percent of them, or 13,676 babies aborted, were by medication (abortion pill). In 53% of the cases (7,310 children) both drugs of the protocol provided for chemical abortion were taken at home, in total solitude by the woman, probably and falsely "assisted" via telemedicine, with all the abuses that iFamNews has pointed out several times.
In 29% of the cases (3,939 children), only the second medication was taken at home and 18% (2,427 children) in the clinic or hospital.
Surgical abortions accounted for 0.6 percent of total pregnancy terminations in Scotland in 2021: 82 babies in total.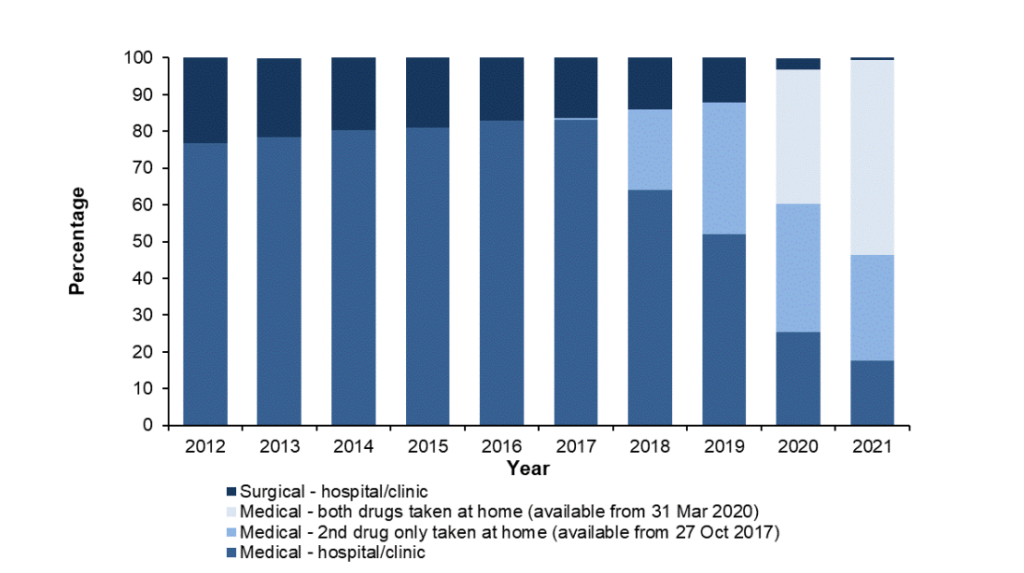 As England and Wales have already done, Scotland also aims to make "DIY abortion" a permanent thing. As a reminder, this type of abortion is self-administered by women of all ages and conditions, and was introduced during the pandemic crisis period. So much for annus horribilis.