Last updated on June 10th, 2021 at 10:28 am
I find it to be one of the most poignant moments in Scripture; one that I believe has great relevancy for today.
Jesus tells his disciples…
Wait. No.
Jesus REBUKES his disciples for keeping the children from Him.
"Then were little children presented to him, that he should impose hands upon them and pray. And the disciples rebuked them. But Jesus said to them: Suffer the little children, and forbid them not to come to me: for the kingdom of heaven is for such. And when he had imposed hands upon them, he departed from thence."

St. Matthew, 19: 13-15
The scene takes place in the middle of the 19th chapter of St. Matthew's Gospel.
I'm no biblical scholar, but considering that the same Gospel has Jesus beginning his three-year ministry at the middle of chapter 4, it would be safe to assume that Jesus had been with his disciples – eating, drinking, walking, praying, devil-outcasting – for quite some time up to that point. And yet, at that point, His closest friends and cohorts seem to be completely oblivious to just how important the child is.
It's not the first time His closest followers presumed to know what was best for Him. Heck, their intentions may have been pure. "Friends, our Master is quite busy… He has a schedule to keep… we must be on our way…. we promise to bring Him back real soon…" It would almost be akin to today's, "here's a signed autographed glossy… now scram!"
But Jesus scolds his disciples when He sees what is going on around Him.
"Suffer the children".
Suffer, as in, submit to. Endure. Feel keenly. Put up with. Experience.
And why? Because Heaven is full of the like-minded ambling up to Him… to touch Him… to converse with Him… to experience Him.
In this jagged age, precious is the innocence of children. And it is being savagely ripped from them, and right in front of the eyes of people who truly care for children and their well-being. And the weapon par-excellence being deployed today is COVID-19.
Recently, Boston Children's Hospital reported a 47% increase "in kids needing to be hospitalized for suicidal ideation or attempts," between July and October 2020 compared to the same period in 2019.
As was reported in January 2021, the UK Centre for Mental Health revealed, "500,000 children under 18 in England, with no previous problems, will need mental health care due to the devastating economic, health and family pressures caused by the ongoing coronavirus crisis. This has manifested itself in children as young as five reporting self-harm and suicidal thoughts to counsellors and a tripling in the number of eating disorders reported by adolescents."
While parts of the world are climbing out of the draconian lockdowns that have been found to cause these excessive and deadly mental issues in the most innocent among us, here in Canada – where I live – politicians continue to rely on lockdowns which have proved time and again that not only do they simply not work, but are causing immeasurable short and long-term harm.
An unattributable quote goes something like this: The definition of insanity is doing the same thing over and over again and expecting a different result.
That's where we are vis-a-vis lockdowns and restrictions.
But too many, including politicians who should know better running this diabolical charade, are trying to insinuate (and sometimes, flat-out project) that the virus is what is causing teen suicide. Fortunately, we have healthcare professionals who care not one shred for being silenced by social media platforms or ostracized by their peers for going against the narrative. Professionals like Andrew Brannan at McMaster Children's Hospital in Hamilton, Ontario –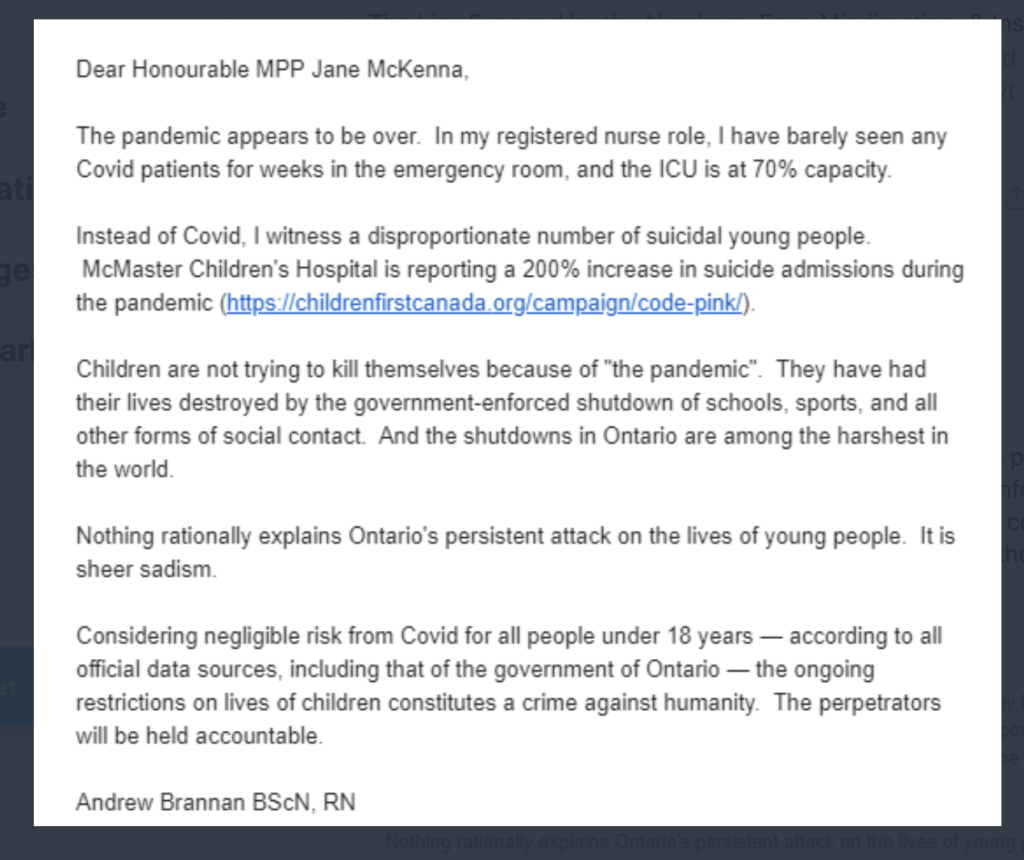 Just yesterday, Ontario Premier Doug Ford held a news conference to state – despite advice from his own Chief Public Health Officer Dr. David Williams to do otherwise – Ontario students won't return to in-class learning before September. (Dr. Williams, by the way, is on his way to being replaced).
Here in Ontario, "two weeks to flatten the curve" has morphed into 15 months to flatten Ontario kids' mental health with a sledgehammer.

Fifteen months.
And this, coming from the same Premier who said not two months ago – and oh so callously considering mounting child suicide! – that any politician in Canada disagreeing with their Chief Medical Officer "might as well throw a rope around their neck and jump off a bridge."
Unbelievable, yes.
Insanity? Absolutely.
And children are paying the price.
Jesus Christ said "suffer the little children". But not in the way these criminals are perpetrating these diabolical lockdowns.
My dear children, please forgive them.
My dear parents, please instruct your children. Hug them. Kiss them. Play with them. And tell them with a firm and loving voice: "Child, you are NOT a vector for disease. You are NOT the "super-spreader" causing all this alleged death and destruction.
My dear child, you are NOT the problem.