The fact of the matter is this: some women feel empowered in a revealing outfit, while others feel objectified. And with the 2020 Olympic Games well underway, the subject matter just won't go away. But it had a solid lead-in prior to last Friday's opening ceremonies in Tokyo.
At the English Championships July 19th, Paralympian Olivia Breen of Britain was reprimanded following her long jump by a track official who said the athletes sprint shorts were "too short and inappropriate".
The plight of Norway's women's beach handball team in their fight against overt sexualization went so viral, rock-star P!nk even entered the fray, offering to pay the fines incurred for the team choosing not to wear bikini bottoms.
Breen was doubly distraught as the criticism came from a female track official who blurted the comment as Breen was walking away from the long jump pit. The 24-year old athlete who suffers from cerebral palsy said she was left "speechless".
But "speechless" is not a word that would describe members of Team Norway who were told that the long shorts they wore in their bronze-medal match against Spain at the Beach Handball Euro 2021 tournament were "improper clothing." Said Co-captain Emma Steggles, "I would feel extremely uncomfortable being made to wear a bikini to play a sport I love."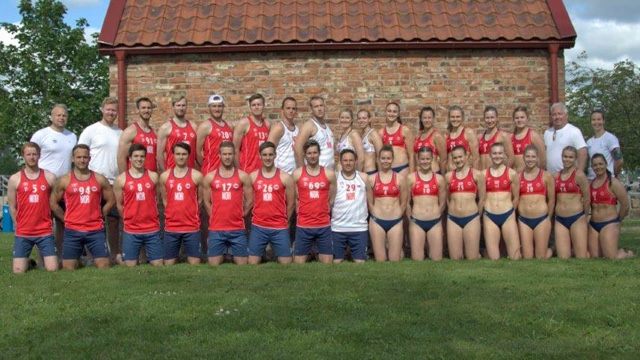 While the women's beach handball team from Norway is not competing at these Olympic Games, Germany is in women's gymnastics. And they too are there to make a statement: fashion, and otherwise. During team qualifying Sunday, the Germans took to the floor in head-turning "unitards". While the German Gymnastics Federation said the choice of apparel was meant to counteract "sexualization" in the sport, team member Elisabeth Seitz said they "wanted to show that every woman, everybody, should decide what to wear."
All things considered, it is a tricky line to tow as there is something to be said of uniformity, whether it be at the office desk or on the high-beam. But it is clear that women are very split on what should, and shouldn't be worn. What is also clear is that it is not necessarily a blame that can be placed at the feet of men. And if that is the case, is not the "sexualization" self-inflicted? Could Breen, Steggles, and Seitz all be right? Could they all be wrong? Does this need a deeper conversation than what we have here?
Time and again, these Tokyo Olympics have been described as the "Woke Games". In terms of women's fashion, woke to what exactly?