Last updated on February 18th, 2022 at 10:25 am
What's that hullabaloo in the media off and online? What's going on? Ah, yes, the spirits of liberal feminists are about to burst their brains because they realized that a campaign to inform women about the psycho-physical consequences of abortion has been taking place once a month in downtown Belgrade for several years now.
In other words, it's business as usual. Libtards are always screaming; the only change is the reason for their screaming. Around great Christian holidays the reason is precisely those religious holidays and Holy Communion (which, by the way, Orthodox Christians take throughout the year, but these anti-theists wouldn't know that and they only remember it at Easter and Christmas). Or it could be other major national holidays celebrating Christianity or patriotism, or the fact that someone somewhere has made a patriotic gesture, or that someone doesn't want to take experimental therapy and is thus "preventing all of us from returning to normal life". All of this screaming while common folk go about their business, trying to make ends meet.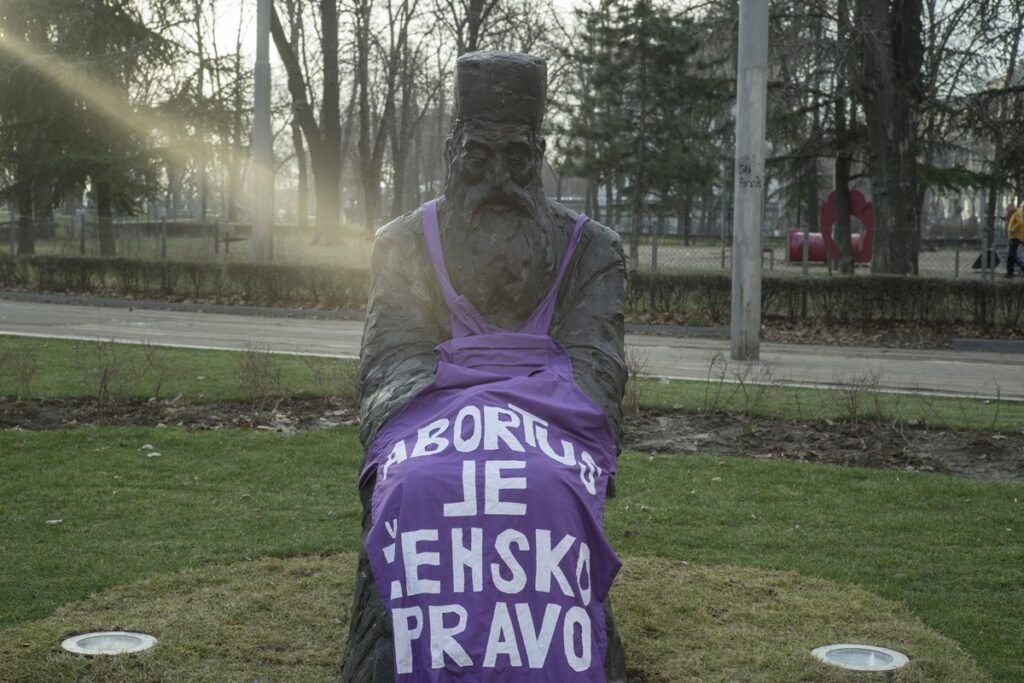 And so, on this occasion, many local media reported on the issue with Blic daily writing about "a controversial initiative to ban abortion". The Serbian Commissioner for Equality is "particularly concerned" that this topic is talked about publicly (since we all know that a common trait of democratic societies is uniformity, and not pluralism of opinion, right?), while the leftist liberal portal Vice proclaimed "An initiative has been launched to ban abortion in Serbia because some think they have the right to decide instead of women". The article, quite expectedly, abounds with prejudices, empty slogans, and unscientific claims and half-truths.
The most striking untruth has to do with this worn-out feminist slogan "My body, my choice." Essentially, this slogan is quite true–indeed, everyone has the right to make decisions about their body–however it is rather worn out in the feminist abortion discourse because it is grounded in the absolute scientific untruth that the unborn baby is part of the mother's body.
Namely, from the moment of conception–when the male and female gametes join–a new, unique and unrepeatable human being is created, which has:
a DNA different from the mother's
often a blood type different from the mother's
a unique set of fingerprints
in around 50% of cases, the sex different from the mother's.
A pregnant woman does not have two heads, four arms, four legs, two brains, etc. Moreover, the mother and the baby do not share the same blood (which is also shown in the fact that they often have different blood types); therefore the exchange of nutrients takes place through the placenta. Admittedly, fragments of the baby's DNA get into the mother's bloodstream (non-invasive prenatal tests from the mother's blood are based on this discovery), but even here they are clearly recognizable as parts of the DNA of another person, not the mother.
The fact that the mother's womb is needed for the growth and development of the baby does not change the fact that the unborn baby is not a part of the mother's body. If the proponents of abortion have a problem with that, they can blame it on the theory of evolution in which they believe and which is responsible for the fact that human beings reproduce in this way, and not by hatching eggs, by way of direct cell division or similar.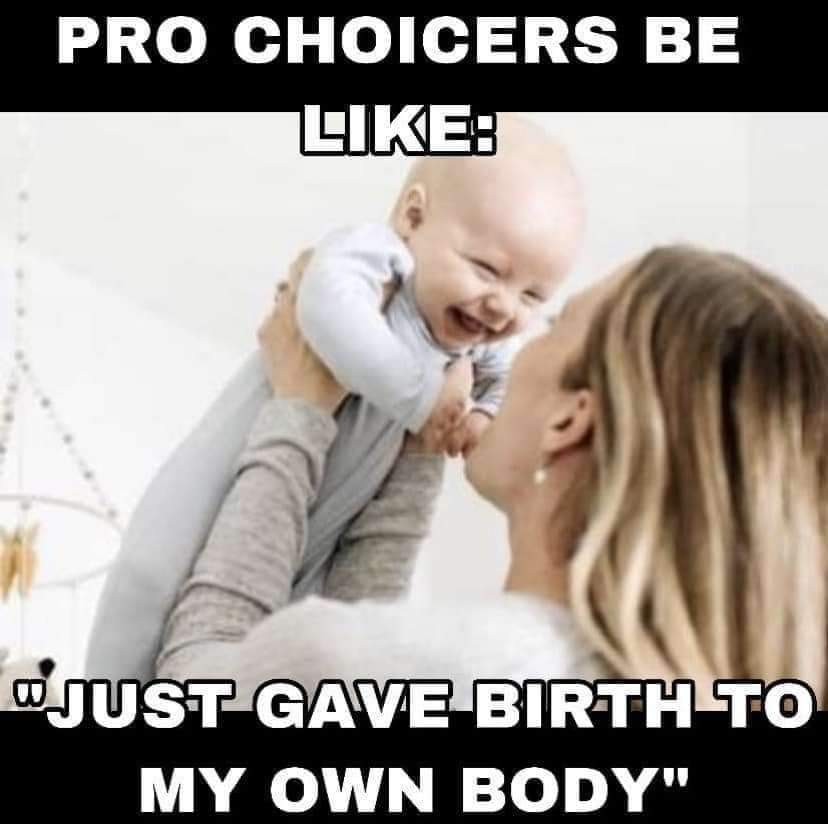 The author of the Vice article further asserts that the fact that someone is for abortion does not mean that they are "against life, against children … murderers" and the like. I would like to hear the explanation behind that statement. It is clear to me that the author is not "against life in general", or "against all children", but it cannot be denied that a successful abortion means the elimination of at least one child's life (or more in case of a multiple pregnancy). It would be more accurate to say that proponents of abortion believe that they should have the right to choose which of the conceived children they will give birth to and which they will not; because, as they admit, if they want to have an abortion today, they're going to have it. If they don't want it the next time, then they won't have it.
Except, the child who is aborted today does not go back to some pre-conception waiting room where it again waits for its turn until the parents summon it in a few months saying, "Hey, come on, now we want to give birth to you!" No, the choice to eliminate that child was made and that child is no more. Forever. Next time when you decide that now you do want to keep the pregnancy, you'll give birth to an entirely new child, who is a different person from the first one, even though they may have similar genes if they were conceived by the same parents.
So when you say that you are not "against life, against children", at best you are stating a half-truth. As for the word "murderer", I personally don't use it to refer to women who have had an abortion (and I know many pro-lifers who also don't say that) because the very last thing that post-abortive women need is for someone to amplify their trauma or rub salt into the wound. The reasons for abortion are different, the consequences of the act numerous, and not easy to live with. Women who have had an abortion need understanding, compassion, support and healing from the psychological and physical consequences that can be so strong and complex that they constitute a syndrome similar to the post-traumatic stress disorder, which is accordingly called post abortion stress syndrome.
As for the incorrect allegations that restrictive abortion laws lead to women dying, the author cites the example of two recent tragic deaths in Poland, saying "several" instead of two. As far as I know, "several" can be somewhere between 4 and 12 or even, for instance, 15, but the word "two" is deliberately avoided here to obscure the truth and muddy the water. Of course, one death is a tragedy, let alone two, but it is certainly good that there were not "several" of them.
According to Katarzyna Zych, the editor of the recently launched iFamNews Poland, who is also reporting from her home country, the reason for the death of Isabella in late 2021 year is not the refusal of doctors to perform an abortion because of the Polish law, but of septic shock as the doctors failed to react on time to the complications in her pregnancy. Doctors are now suspended and an investigation is underway. The death of another pregnant woman, Agnieszka, who lost her twins and then died herself in January this year, is also pending an investigation. The Polish Minister of Health clearly stated that abortion can be performed if the mother's life is endangered: "In a situation when the life or health of a woman is endangered, an emergency termination of pregnancy is legal. These are two separate reasons, and only one is enough for the doctor to react."
The tragic deaths of women in Ireland and Argentina, which were not the result of the "unavailability of abortion", were also used by feminists as a tool in their campaign to legalize abortion. The investigation has established that Savita Halappanavar died in 2012 due to sepsis caused by E. coli ESBL. Under the Irish law, Savita would have been allowed to have an abortion in such circumstances if doctors had realized the seriousness of her condition in time. The silence of feminists that ensued over the death of another Irish woman that same year (2012) is louder than all of their vociferous cries and protests over Savita's death. Namely, Aisha Chithira died from complications of an abortion she procured in England. One doctor and two nurses from the Marie Stopes abortion clinic have been charged with manslaughter.
The restrictive abortion law, in force at the time in Ireland, was not responsible for Savita's death, but Britain's rather liberal abortion law was responsible for Aisha's death. But in Aisha's case, the media and feminists were silent because her death did not work in their favor.
Feminists are also silent about Keisha Atkins from Albuquerque, who died at the age of 23 from a late-term abortion of her 24 weeks old baby. Keisha's family filed a lawsuit against the clinic, and during the investigation it was revealed that Keisha had been told that in case of complications she was "not to contact or consult any medical facility, hospital, doctor, emergency room or nurse outside of the employees, agents and/or staff" of the clinic where she had had an abortion. Does it sound like this "legal" clinic that performs "legal" abortions really cares about the patients?
They are also silent about the death of one of their own, María del Valle González López, an ardent advocate of abortion legalization in Argentina, who in April 2021 went to the hospital to have a non-surgical abortion (medical abortion). She called it the "abortion of her dreams". She was only 23 years old, and her death is the first recorded death from abortion since it was legalized in that country on 30 December 2020.
They are also silent about doctors who legally perform abortions in their legal clinics, and leave behind a trail of blood from the deaths of pregnant women. About doctors like LeRoy Carhart, "famous" for regularly performing late term abortions (in the third trimester) when this procedure is even riskier than usual, which is why it is banned in many countries after 24 weeks of pregnancy. In 2013, after an abortion at 33 weeks, a 29-year-old woman died at Carhart's clinic in Maryland. On the very same day in New Mexico, while the Medical Board was preparing to dismiss a negligence case against Carhart's colleague and associate Shelley Sella, another patient of Dr. Sella's was admitted to the emergency room of a hospital in Albuquerque. Carhart was also involved in the death of Christine Gilbert, a girl with Down Syndrome, who in 2005 died at 29 weeks of pregnancy. The investigation established that the cause of death was complications from abortion. And these are just several cases of pregnant women dying while having perfectly legal abortions.
I'd like to hear these ardent supporters of "women's rights" explain how exactly does legal abortion save women's lives.
Finally, I agree with only one small bit of this author's writing: "Let's get serious, let's get educated". The topic is indeed very serious and I absolutely support the education of girls and women about reproductive health. Moreover, I am the first (and so far the only, as far as I know) certified educator for the FEMM fertility awareness method in Serbia, which provides women with extensive knowledge about their menstrual cycle, fertility and health–everything that every woman should know and that every woman has the right to know. In any case, I'm thankful to all the agitated individuals for raising such an uproar and bringing the issue of abortion back into the spotlight.
This is truly a matter of life or death, and it is extremely important to talk about it by presenting proven scientific information, because every woman has the right to be informed about all the positive and negative consequences of any procedure or treatment. Hence, based on her understanding of the information provided, she can make the best decision for herself. After all, this is what the World Health Organization advises.