Sporting apparel giant Nike has just inked a deal with trans-influencer Dylan Mulvaney, a confused man who thinks he is a woman, making him one of Nike's "female" ambassadors. Mulvaney announced his partnership with Nike through Instagram posts featuring him wearing the company's sportswear while performing mock exercises. The controversial deal could see Mulvaney earning up to $150,000 per post on Instagram.
Nike's collaboration with Mulvaney has ignited a strong backlash. College swimming champion Riley Gaines has taken issue with the deal, accusing the company of disrespecting women. Gaines, a staunch advocate for women in sports, argues that Nike's collaboration with Mulvaney makes a "sad mockery of what being a woman entails."
Likewise, Nancy Hogshead, a gold medal-winning swimmer, expressed concerns with the Nike partnership, claiming it takes opportunities away from biological women. Hogshead also noted the problematic message sent to girls and women regarding body image.
British Olympic medalist swimmer Sharron Davies joined the criticism, emphasizing the importance of understanding and respecting women.
Twitter commentator Michael Seifert was more direct:
"Nike is the latest mega corporation to make Dylan Mulvaney, a biological man, their female brand ambassador. These companies are spitting in the faces of women every single day. Stop giving them your money."
But perhaps a picture of the Daily Wire best summed up the partnership: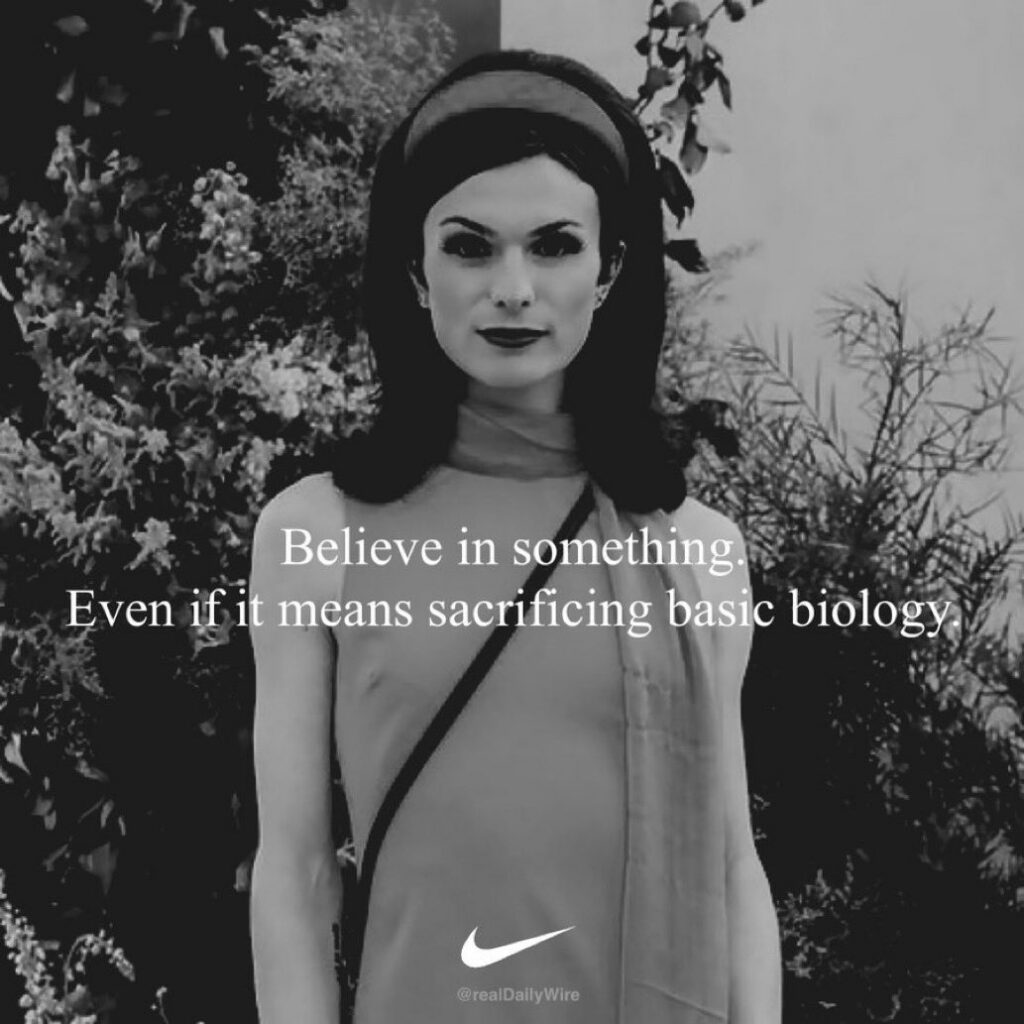 Nike is just the latest company to partner with Mulvaney as a "woman." For example, Bud Light likewise recently made Mulvaney a "female" product ambassador; this move so infuriated country music star Travis Tritt that he is removing all Anheuser Busch products from his tour bus.
When will companies stop denigrating real women this way? When will enough people finally stop buying the products of these companies that hate women? Enough is enough. It is time for real men to defend real women rather than pretend to be them.
Image: The Daily Wire