The Bishop of Pittsburgh, Bishop David Zubik, has expressed his desire for the proposed "Pride Mass" to be cancelled. The event was slated for June 11, at the Duquesne Holy Spirit Chapel, and its promotion by independent sponsors was meant to align it with the secular Pride Month. Promotional materials indicated that several groups, such as Catholics for Change in Our Church and the LGBTQ Ministry at St. Joseph the Worker, were co-hosting the event.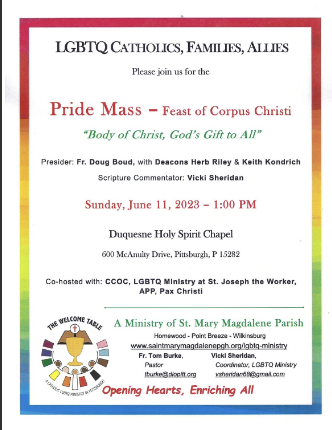 St. Mary Magdalene Parish, known for its LGBTQ+ ministry led by Pastor Tom Burke and coordinator Vicki Sheridan, was listed as the main ministry for the event. Burke has previously shared his supportive view of LGBTQ+ sexual ethics, stating that his role is to be a pastor, not to judge. He has however also noted that he is not allowed to conduct same-sex marriages as they go against Catholic Church teachings.
Bishop Zubik, in a letter addressed to the clergy and those disturbed by the Pride Mass, revealed that neither he nor Duquesne University President Ken Gormley were aware of the planned event until they received calls about it. The Bishop clarified that the independent sponsors had not obtained authorization from the listed parishes and their promotion of the event had caused confusion and anger.
Despite many assuming he approved the event, Zubik clarified he had not, and expressed disappointment over the language used in response to the news, which he found unbecoming of Christian charity. He emphasized that while the Church has a responsibility to love those with same-sex attraction, it cannot support actions that contravene God's law.
Zubik concluded by calling for the cancellation of the Pride Mass due to the controversy it had stirred. He invited everyone to join in the celebration of the Solemnity of Corpus Christi on June 11th, focusing on the Body of Christ.