A married couple have a child—a boy. Several years pass, and the couple divorces. Suddenly, the boy's mother decides that he, in fact, is a girl. She begins dressing the boy in girls' clothes and calling him by a girl's name, and then tries to enroll him in kindergarten as a girl.
In your opinion, how should the father, doctors, and society react to what is happening here, in a normal situation?
Until recently, the reaction to such a situation—in any country in the world—would have been largely the same. If the reason was that the boy considered himself a girl, the doctors would have explained to his mother that there was no reason to support to such a notion. This happens to children who still do not understand the essence of sex differences very well. If the boy persisted in calling himself a girl, he would have been diagnosed with "gender identity disorder (GID) of childhood" (code F64.2 according to the 10th revision of the International Classification of Diseases – ICD 10). Doctors might have told the mother that long-term studies of children with this disorder "suggest that only 2% to 20% [of them] have GID as adults" (as reported in the seventh edition of Nelson Essentials of Pediatrics).[1]
If the mother's belief that her son is a girl did not stem from the child's behavior, or if she continued to insist on it despite the doctors' explanations, perhaps she herself would have been recommended to see a doctor. And for sure, if the parents turned to the law to resolve their dispute, no court would have supported the mother in her persistent intention to make her boy a girl. "It's just crazy!"—this would be the reaction of any sane person to such a demand a couple of decades ago. And personally, I completely agree with this reaction.
Unfortunately, in recent years, this sort of madness has become part of the "new normal" in many countries. In reality, of course, there is nothing "normal" about it. Objectively, in reality, two plus two is still four, not five or twenty-two. Likewise, boys are boys and girls are girls, and will always remain so, as this is determined by the biological sex of the child. A person who believes that he is Napoleon will not, on the basis of that belief, really become the famous French emperor of the 19th century. Similarly, a man who decides that he is a woman will not, as a result, become a woman. And dangerous surgery or harmful hormone therapy will not change that fact.
By declaring insanity the norm and using the force of the law to bully those who disagree into obeying such policies, society cannot change the objective reality. Reality – such as the laws of arithmetic, a person's biological sex, or the fact that marriage is a union of a man and a woman – will remain unchanged. But by declaring madness the norm the society changes itself – and seriously so: it succumbs to madness.
The story of James Younger, an American boy from Texas, became a tragic illustration of all that.
Jeffrey Younger and Anne Georgulas divorced several years ago. Their marriage had resulted in two sons – James and Jude. Parents were afforded joint custody, but the children usually lived with their mother. And one day, while visiting his dad, little James told him that he was now a girl. According to him, his mother told him so.
Mrs. Georgulas reportedly decided that her boy was a girl because he had made believe he was the female characters from the Disney cartoon Frozen, and also preferred to play with what she regarded as girls' toys. She found it necessary to support the "gender choice" of her child, who at the time was five years old. She began to treat him like a girl and call him by the female name Luna. She bought fake hair for the child and took him with her to LGBT parades.
In addition, it is reported that she (a pediatrician herself, by the way) turned to doctors from the GENECIS program. The name of this program stands for Gender Education and Care Interdisciplinary Support Program. Its founder, Dr. Jimena Lopez, calls it "the only clinic for transgender children and teens" in "conservative" Texas. On the website of this program it is reported that it conducts hormone therapy and therapy with puberty blockers (drugs that prevent the development of secondary sexual characteristics in young patients) for children aged 7 to 14.
Strictly speaking, in our opinion, the very existence of such programs for children already raises serious questions about the mental health of the society in which this sort of thing happens. Not so long ago, a serious scandal arose around the Tavistock Centre – the only NHS clinic for transgender children in the UK. Several staff members left the clinic, claiming that the institution had subjected children as young as three years old to "unnecessary gender change treatment," giving them rushed, unfounded diagnoses.
Commenting on this situation in the (UK) Times, Professor Karl Henegan, director of the Center for Evidence-Based Medicine at the University of Oxford, said: "Given paucity of evidence, the off-label use of [such] drugs in gender dysphoria treatment largely means an unregulated live experiment on children."
But Mrs. Georgulas, apparently, had no problem with making her son the subject of such experiments. By the way, according to media reports, she is not the biological mother of James (or his brother): the boys were artificially conceived from a donor egg.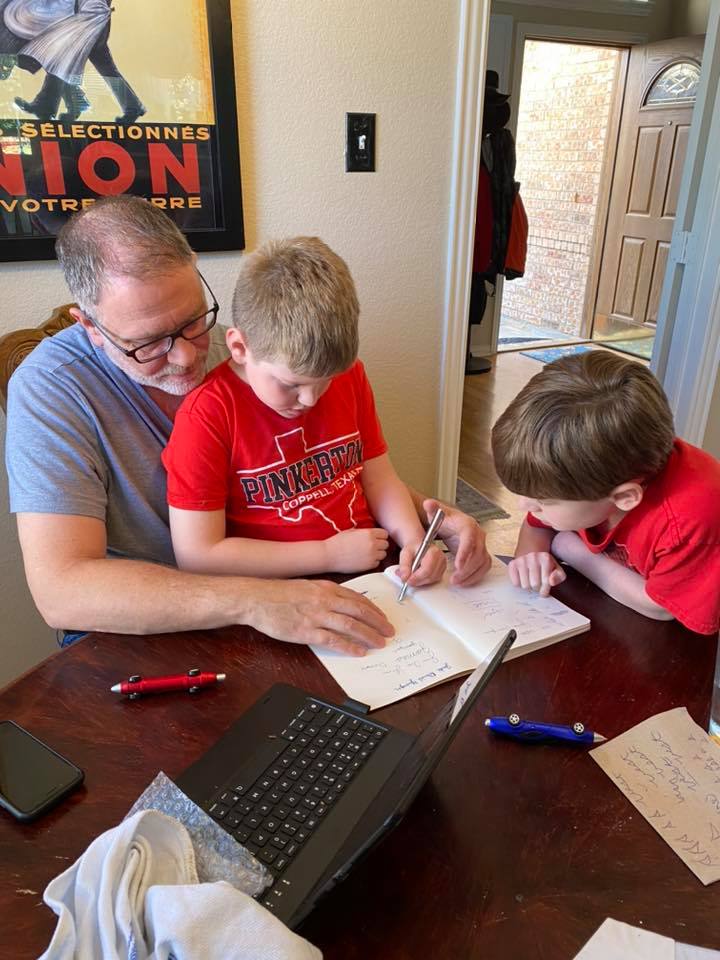 The father (an Orthodox Christian, by the way), naturally was outraged by what was being done to his son. A dispute arose between the parents, which turned into legal proceedings.
One might expect that this would have marked the end of this bizarre situation. By then James was already seven years old. When he was visiting his father, he (according to his dad) considered himself a boy and preferred to use his masculine name. Jeffrey Younger reported that, at first, he allowed his son to wear women's clothing during the visits, but soon found them in the trash thrown away.
What Mrs. Georgulas was trying to do with James should honestly and properly be called child abuse, and be swiftly stopped.
But the decade-long efforts of militant "LGBT" activists, aggressively forcing scientists and doctors to bow to their ideology, do not remain fruitless. They influence specialists and the society like a real inhibitor of maturation – mature assessments based on objective truth go out of fashion, something dangerous to express publicly, even. Therefore, in the case of little James no simple, obvious, and fair decision was reached. Instead, a long legal battle ensued between his father and mother.
Last October, a jury ruled that the mother should be the 'sole managing conservator' of James, having the exclusive right to make all medical decisions for him. In other words, she was to be given every right to make a girl out of her boy, against the wishes of his father (and, according to the father, the child himself).
Of course, the father did not agree with this insane decision. He challenged it. In addition, he created a website called Save James! and attracted the attention of organizations and people who oppose such experiments on children, drawing on their help to raise the necessary funds to pay for lawyers.
In October, Judge Kim Cooks overturned a jury's decision and ruled that a mother should not have the right to single-handedly decide on her son's gender reassignment. At the same time, she decided to silence both parents by forbidding them to publicly comment on their son's case before he was eighteen. She clearly did not like the amount of public attention received by this case. In her opinion, the father, drawing attention to the madness going on around his son, violated the child's right to privacy.
Of course, the court saw no violation of the child's rights in the mother attempting to change his gender. But at least it decided that parents should make all medical decisions regarding children together. With one caveat: if the parents cannot reach an agreement, decisions regarding the child are to be made by a court-appointed attorney – the "Parenting Coordinator". By the way, such court decisions are a clear usurpation of natural parental rights. And the fact that in some countries many people do not realize this speaks of one thing: that this unnatural usurpation has already gone too far.
However, that decision had at least a modicum of justice to it. And, of course, it did not suit Mrs. Georgulas, who continued the battle for her right to turn her son into a girl. In November 2019, she demanded that the court's decision be overturned and returned to the original jury's decision, which enabled her to carry out this cruel intent.
At the end of January 2020 she again lost the lawsuit. Judge Mary Brown affirmed that parents have equal rights to raise their son and ruled that all medical decisions should be made jointly.
Unfortunately, the story did not end there. With a tenacity worthy of better use, Mrs. Georgulas continued to pursue the right to turn James into a girl named Luna. And just this month, on August 11, 2020, the court made a new decision, taking a step towards meeting her requirements.
While not giving her the right to single-handedly make medical decisions regarding her son, the judge gave her the right to make such decisions in the field of child's therapy and his education. She will probably now be able to enroll her eight-year-old boy in school as a girl. The contributors to the Save James Facebook page commented, "Judge Mary Brown has condemned James and Jude to a life of therapy, confusion, and abuse without even having a hearing."
What is being done to little James – and to many other children in the United States and some other countries – is mad, barbaric, and cruel. The very possibility of such trials in the style of "ideology versus biology/reality" is a symptom of the far-reaching mental pathology of the society. We can only hope that at this stage it may still be reversible.
But in order to end this madness it is necessary to return science and medicine to their rightful owners – reason and common sense, taking them away from aggressive absurd ideologies and their radical activists. What is happening is a danger to all of us – and we are all called upon to fight this absurdity to the best of our ability in order to save children like James and many others from those who are trying to sacrifice them to the 'gods' of their new false "values". Unfortunately, so far, sexual radicals are much more active than sane people – last year, thanks to their aggressive pressure, the World Health Organization already ceased to consider being "transgender" a disorder in the new revision of the International Classification of Diseases (ICD-11).
In the United States, this happened even earlier – in the latest revision of the authoritative American Diagnostic and Statistical Manual of Mental Disorders (DSM-V), the diagnosis of "gender identity disorder" was replaced by "gender dysphoria." As the eighth edition of the aforementioned Nelson Essentials of Pediatrics explains, this "embodies an effort to remove the stigmatizing impact of the term 'disorder' while maintaining a diagnosis in DSM-V to ensure insurance coverage for medical interventions." [2] 
We must clearly understand that this has nothing to do with science and medicine. A special report Sexuality and Gender, published in 2016 in the journal New Atlantis, states: "Only a minority of children who experience cross-gender identification will continue to do so into adolescence or adulthood […] There is no evidence that all children who express gender-atypical thoughts or behavior should be encouraged to become transgender."
Reflecting on the story of little James Younger, it is worth remembering the tragic fate of another child – David Raymer, a patient of John Money, one of the fathers of gender ideology. This child (in his case, with the consent of both parents) had his sex glands removed and was raised from childhood as a girl under a female name Brenda. He then tried to return to normal life, but in the end failed to. At the age of 38 David Reimer committed suicide by shooting himself in the head with a sawed-off shotgun. We all, of course, sincerely hope that James Younger will live a happy life, and nothing like this will happen to him – among other things, thanks to the selfless struggle of his father and many others. But those who are putting gender madness into practice should not forget what tragic consequences such cruel experiments on children have already led to.
---
References:

[1] Nelson essentials of pediatrics / [edited by] Karen J. Marcdante, Robert M. Kliegman .– Seventh edition, p. 75
[2] Nelson essentials of pediatrics / [edited by] Karen J. Marcdante, Robert M. Kliegman .– Eighth edition, p. 87.