The Spanish Foundation of Christian Lawyers stated that in September a group of pro-abortion activists attacked the parish of Santa María del Remedio in the neighborhood of Las Cortes, during a demonstration.
The jurists' organization reveals in its written statement to the judge that the attackers shouted at the parishioners who attended mass, as well as painted graffiti on which they wrote statements such as "Garbage Church, you are the dictatorship" or "Abuse priests prohibit abortion".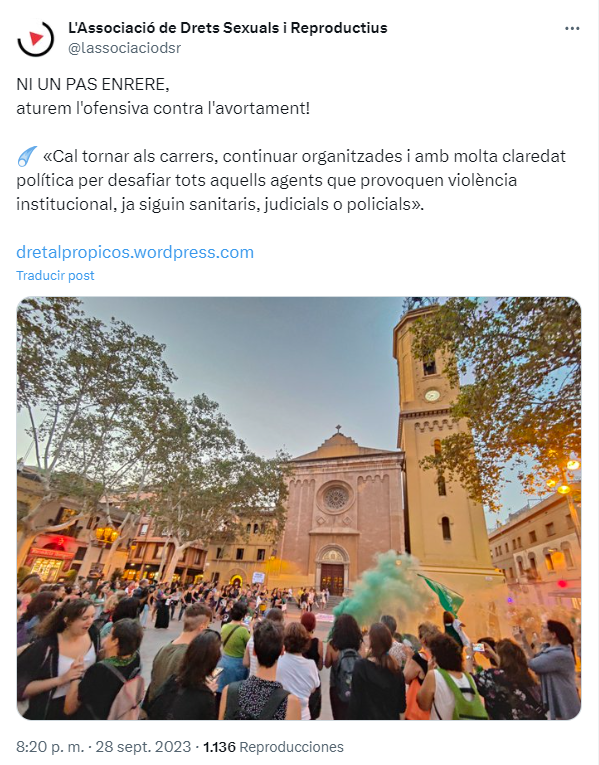 Christian Lawyers noted that the Association for Sexual and Reproductive Rights (L'Associació de Drets Sexuals i Reproductius) is the organizer of the event, reminding the public that this is not the first time that similar acts have occurred in this parish by these same groups.
The Foundation of lawyers said that the demonstrators may have committed a crime against freedom of conscience (Art. 522.1 of the Penal Code), a crime of damage (Art. 263 of the Penal Code), a crime against historical heritage (Art. 323 of the Penal Code) and a crime of unlawful demonstration (Art. 513 of the Penal Code), with the aggravating circumstance of discrimination (Art. 22.4ª of the Penal Code).
The president of Christian Lawyers, Polonia Castellanos, observed that "it is inconceivable that in a democratic state believers are not allowed to attend their worship ceremonies".
She said that "attacks on religious freedom always come from the same sectors of the population", noting that "this is just another example of how the leftist rulers try to impose their anti-Christian ideology by allowing these attacks on the fundamental rights of all Catholics".