Move over Spider-Man, Iron Man and Wonder Woman, there are new super heroes on the scene: "Repro Heroes."
Say what?
This is International Planned Parenthood Federation's latest marketing campaign to convince women that killing their unborn child makes them a hero, and that abortion advocates can deploy "super powers" to fight to expand access to abortion around the globe.
According to IPPF, Repro Heroes are "fierce and fearless…champions of sexual and reproductive health and rights" who have "unique super powers to help power the fight for equality and rights. But just like you, they are humans too."
Consistent with the Super Hero fantasy theme, Repro Heroes are depicted as powerful cartoon characters fighting for IPPF's abortion on demand agenda.
Naturally, their campaign is about putting a fantasy face on the ugly truth of abortion – they want unborn babies to be exterminated. They don't acknowledge that ugly truth, of course. Instead, they couch their agenda in the language of progressive politics using terms such as "sexual health" and "reproductive freedom."
To entice supporters to their cause, people are invited to take an eight-question quiz to determine which Super Hero they are among the six possible Repro Heroes that are presented.
It's should come as no surprise that all of the "heroes" are far left political activists with extreme views on abortion.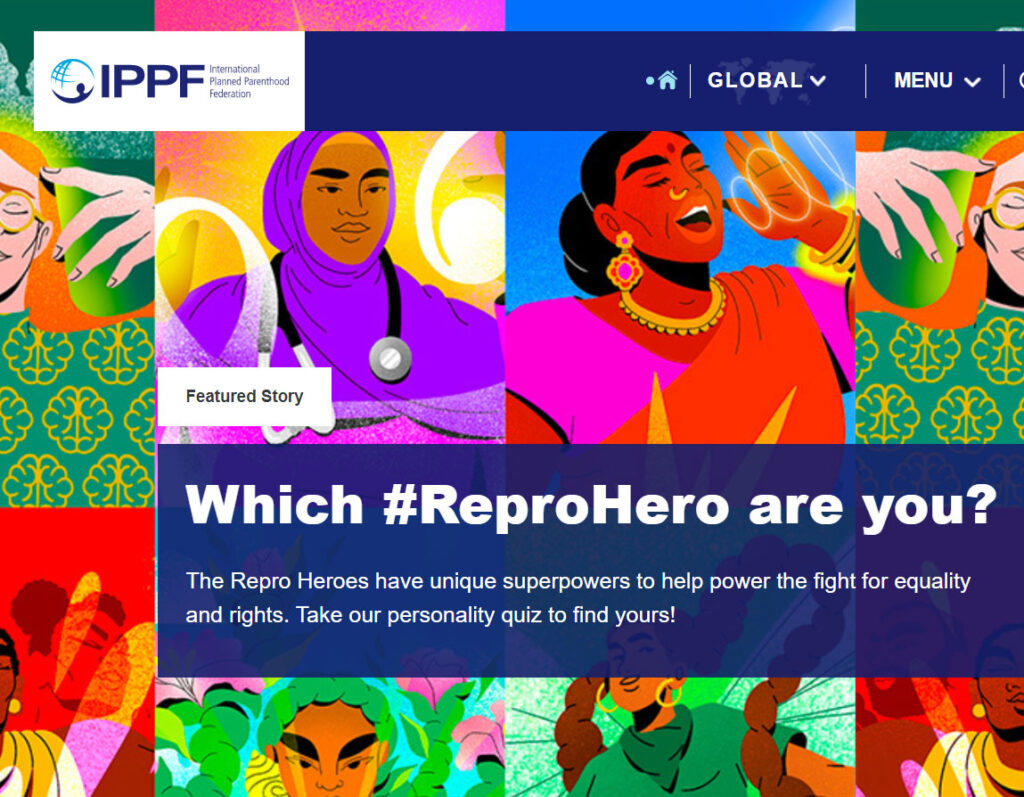 Zofia (super power: telepathy) uses her mind to oppose "far right movements" and "read and examine the minds of potential human rights violators."
Aizha (super power: supersonic voice) is determined to make sure that young people are politically engaged on behalf of abortion. She doesn't hesitate to shout to get her point of view across.
Valentina (super power: flight) believes that "abortion is healthcare. Period." She is angry about "conservative lawmakers" in Latin America who oppose expanded abortion access.
Aina (super power: precognition) hails from the Hawaiian Islands. She is passionate about climate change and fighting "land grabbers and extractive industries" and uses her "psychic ability to see directly into the future" to campaign for "sexual and reproductive health and rights."
Kunyaza (super power: shapeshifting to ANY gender identity) is a "gender fluid" super hero for whom "pleasure is the name of the game." Kunyaza is said to be a "they."
Inaya (super power: instant healing) applies her super power to providing "lifesaving sexual and reproductive health care" to those experiencing a natural or man-made disaster. Because, well, when you're facing a terrible disaster like a tornado or a wildfire, the most important thing on your mind is being able to have sex however you might wish.
IOF, the publisher of IFamNews, is one of the leading pro-family groups in the world. We oppose abortion because it is the killing of unborn children, and because it helps kill the human spirit.
We believe that every human life, born and unborn, posses human dignity and is worth celebrating. Every person is made in the image of God, the Creator of all powers – human, super human and divine.
It seems odd to me that the purveyors of abortion would be able to marshal six "super heroes" to advance its cause of death. Why are there not super heroes to celebrate life, and the natural family that produces life?
Do you think that IOF should explore creating one or more Super Hero characters to celebrate life and the natural family?
Please use the comment section below to share your thoughts!