Last updated on January 27th, 2020 at 06:02 am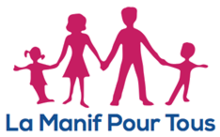 Sunday, January 19, the collective "Marchons enfants!" (Let's walk, children!), bringing together the main pro-life and pro-family French organizations, was calling for a demonstration against the bioethics bill that is coming up for discussion in the Senate these days.
The mobilization was successful from multiple points of view:
– Numerically: several hundred thousands French people marched peacefully under a bright sun (as always, the government speaks of only 20,000 people, but we can probably multiply by 10 or more).
– Above all, this cheerful population showed that the future is on our side: all observers could see that the crowd was very young and made up of large families. Faced with the sad and old sixty-eight liberal activists, it is clear that youth and rebellion are now in the "conservative" camp.
– In addition, while in France (as in many other European countries), Catholics constitute a large part of the pro-life and pro-family movement, bishops were traditionally fairly discreet on so-called "society" issues, they are clearly committed against this bill carrying worrying drifts. In particular, we must warmly thank Archbishop Aupetit, the new Archbishop of Paris and former doctor, for his press release calling bluntly for mobilization.
– Finally, it should be noted that, for the first time, the pro-family movement and the pro-life movement have united in a common struggle.
To explain this last point it must be said that two elements were fundamental for this. First of all, the demonstration took place on the day of the traditional march for life: the organizers of the latter had declared that it was important that we all come together to defend all the children threatened by this supposedly "bioethics" bill (but neither organic nor ethical!) and they leaved therefore the place to this manifestation of the collective "Marchons enfants!". And, above all, the bill against which we were demonstrating includes both serious anti-family provisions (such as the possibility of creating "fatherless" children by the IVF for single women or for couples of women), but also a lot of provisions against life (including the possibility of creating chimeric embryos half-man, half-animal, or the extension of preimplantation diagnosis or prenatal diagnosis to promote eugenics and "track down" unborn children with genetic abnormalities). I would like to clarify that the term "tracking down" is not mine but of the MP Philippe Vigier who invited in session, in front of the Assembly, to "track down the carriers of genetic anomalies".
In short, if the law under discussion is catastrophic, there is many signs of hope!