Last weekend I attended a pro rodeo event in Auburn, CA, a community within an easy drive from where I currently live in rural northern California. We moved to this area a year ago.
I have been to many rodeo events over the years as they are a big draw in rural areas of the country. Many have a long history of operation.
Before moving to our current community, we lived for many years outside of the small town of Red Bluff, CA where the pro rodeo circuit has been a fixture, held every year for 102 years. Thousands of people attend every year.
Rodeos are pure Americana. The men wear their western shirts, boots and cowboy hats. Many of the ladies dress in their favorite western outfits, trying to impress each other, and the men. The kids are happy as can be watching the action and scampering about. The smell of hot dogs, burgers and tri tip grilling fills the air. The beer garden is packed. The national anthem is proudly and professionally performed, and it is not unusual for a military flyover to deliver a thrilling exclamation point to mark the occasion.
For many years at the Red Bluff rodeo, a big draw was the Budweiser Clydesdales. They put on a spectacular demonstration, led by teamsters who amazingly control the horses in a synchronized fashion with minute movements of long reins intertwined in their fingers.
The team would parade into the rodeo arena pulling a large freight wagon, circle the crowd, and then the teamster would precisely back the rig up to a spot against the fence to 'oohs' and 'aahs' from the crowd. One could just imagine a shop keeper back in the day unloading barrels of beer to be sold to the locals. After a few more maneuvers of the rig, the team would leave the arena to loud and appreciative applause.
The Clydesdales weren't at the Red Bluff rodeo this year. Nor were they at the rodeo I attended in Auburn. And for good reason.
It was a hot day at the rodeo in Auburn and, naturally, I made a visit to the beer garden for a cold one. No Budweiser products were for sale. The vendors had eliminated them. I got to talking with the guy serving beer and shared that I had stopped drinking Bud Light, my favorite beer, because of their endorsement of Dylan Mulvaney – a man who says he is "transgender" and pretends to be a woman.
The beer guy thanked me for dropping Bud Light and said he'd never again serve Anheuser Busch products. He told me to be sure that I dropped all AB products and not just Bud and Bud Light.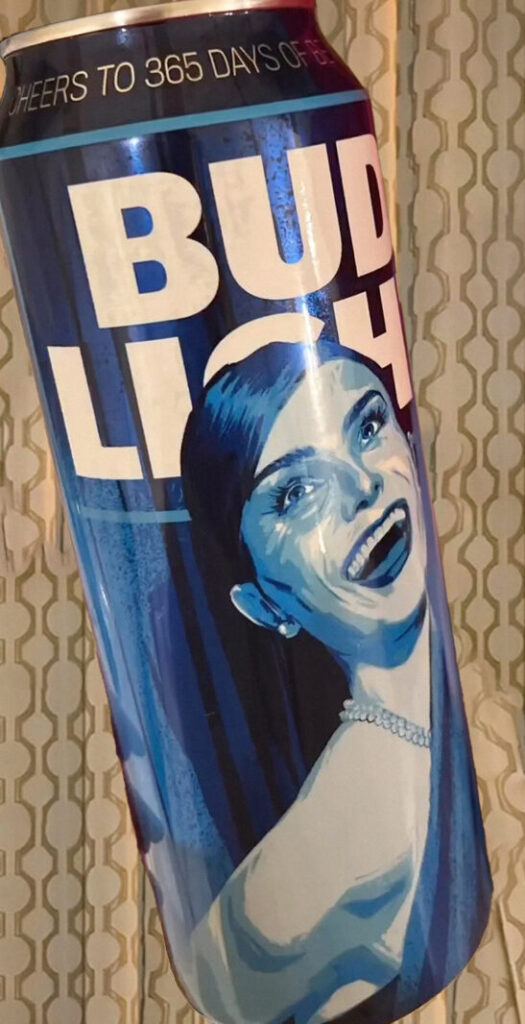 Apparently I am not alone. The other day the beer industry publication Beer Business Daily reported that Bud Light sales have plummeted by 26 percent from the prior year in the wake of their partnership with Dylan Mulvaney which was to "honor" him for 365 days of "girlhood."
This followed an organic, sustained and massive backlash from Bud Light drinkers like me. A video by music icon Kid Rock shooting up cases of Bud Light went viral, racking up over thirty million views.
As mentioned, Bud Light has been my favorite beer all of my adult life. I have been drinking it for over four decades, ever since it was introduced to consumers back in 1982. I won't drink it ever again, or any AB product for that matter.
This begs the question – why did I and so many other Americans make such a fuss about Bud Light's sponsorship of the fake woman, Dylan Mulvaney? After all, big corporations have made plenty of moves to appeal to the woke mob in recent years – from endorsing gay marriage, to supporting Black Lives Matter, to applauding athletes who kneel during the playing of the national anthem. You name the woke cause, and big corporations are celebrating it.
The answer to the question of "why" is that this is bigger than beer.
I can't do much about politicians and media personalities who tell me that biology no longer matters and gender is actually determined by "identity."
I don't watch 'Meet The Press' so I am not forced to endure someone like Chuck Todd lecturing a presidential candidate that science establishes that gender is not binary and exists on a wide spectrum.
I couldn't do much when the NFL allowed millionaire athletes to disrespect America by kneeling during the playing of the national anthem.
And I can't do much about the NBA kowtowing to Communist China, trading human rights for big bucks.
But I can do something about drinking Bud Light. I can give it up, and I have.
In doing this, I am sending a message to all of them – to Anheuser Busch, to the NFL, to the NBA, to woke politicians and to leftist media outlets. I won't have it any longer.
I won't sit by and let my granddaughters be told by politicians, educators and corporations that women can have a penis and that men can give birth. Women don't, and men can't.
I won't sit by and let wealthy sports leagues like the NFL and the NBA lecture me that America is systemically racist. It is not.
Nor will I countenance teaching kids in schools that white people are inherently supremacist because of their skin color. That sort of instruction is itself racist and destructive, and I won't abide it.
I won't be quiet when the government tells me that parents who attend public school board meetings to oppose their children being indoctrinated into the LGBT lifestyle are "domestic terrorists." They are not.
Anheuser Busch knows they have a problem. Their company has lost billions in value since the Dylan Mulvaney partnership and the Bud Light brand is hemorrhaging customers.
But AB is trapped by their embrace of wokeness. They can't openly apologize for making a massive mistake in partnering with the fake woman Mulvaney for fear that the woke mob they tried to please will then turn on them.
Instead, they've tried to stop the bleeding by making a few symbolic moves. Their two top marketing executives have been put "on leave." They've put the Clydesdales back on TV to remind people of their former embrace of traditional values. Their PR department is busy pushing stories that the Bud Light boycott is hurting small businesses and independent operators like truck drivers and sales reps. And the company has announced a tripling of their upcoming summer advertising budget. You can bet that a lot of that new spending will go to conservative media outlets in an attempt to reach people like me who are the backbone of the boycott.
It's not going to work because this is bigger than beer. This is something I can do that is simple and easy, and is sending a big message, and not just to Anheuser Busch. It's working and I hope it is the start of something new.
One thing is certain. Rodeos need cowboys, cowgirls, horses and livestock. But they don't need Bud Light. Neither do I.