Päivi Räsänen's reaction to the reopening of her court case in the Helsinki Court of Appeal in Finland after her acquittal by the district court is surprising.
In March, the court "[…] unanimously ruled that she had acted within the bounds of the law in expressing her religious beliefs about homosexuality. Päivi Räsänen was using her freedom of expression and religion when she referred to her Bible-based beliefs regarding LGBT+ issues."
The case has gained huge publicity and iFamNews has covered it on numerous occasions, demonstrating solidarity with the accused in defense of freedom of thought and expression. After being charged for quoting the Bible in a 2019 tweet and for a booklet dedicated to her own religious community's Sunday school a few years earlier, former Finnish interior minister Päivi Räsänen was fully acquitted.
On May 31, however, the Helsinki Court of Appeal announced that it would reopen the case after a 26-page-long appeal filed by prosecutor. It appears that the trial will not begin until the fall and may even drag on into 2023, prolonging the agony for Päivi and her family.
Yet, Päivi Räsänen does not seem angry, nor does she complain. Instead, in a tweet on June 2 she stated that "this opens, once again, an opportunity to bring the message of the Gospel to the courtroom."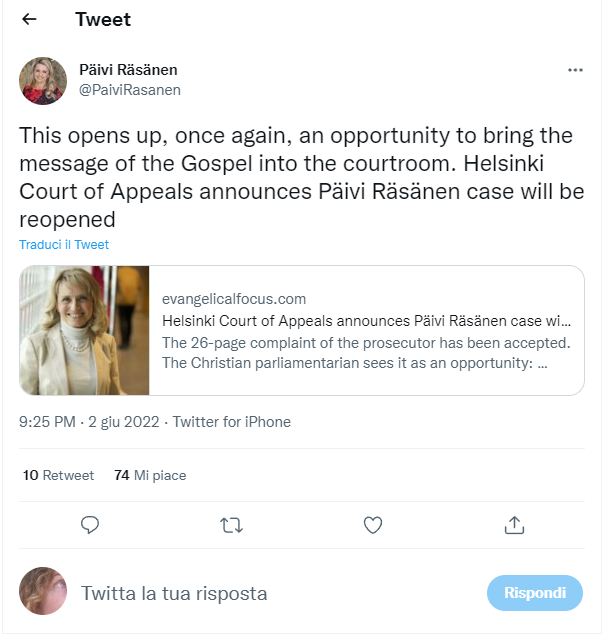 "As far as I am concerned," she previously stated in a June 1 press release, "the victory we won in the district court would have been adequate, but the acquittal by the higher courts has broader significance. The extension of the trial will allow for the establishment of a legal precedent on freedom of expression and religion […] which would then serve as a legal guide for any charges of the same tenor in the future."
Very good, Päivi. Your accusers are not backing an inch, but neither are you. Above all, you are on the side of truth. And of reason.